Lawn Core Aeration & Over-Seeding – Seeding with improved Dwarf Type Tall Fescue (RI MA and CT)
Contact Sutherland's Organic Solutions
Why You Should Core Aerate & Seed Your Lawn:
Compacted soil and heavy thatch are two of the biggest obstacles and reasons why Lawn Aeration is important. They can keep your lawn from looking less than satisfactory despite consistent and proper fertilization, watering and tender loving care.
Both compaction and heavy thatch prevent oxygen and vital nutrients from reaching the root zone. Lawn Aeration & Seed addresses both problems, giving your lawn's roots the breathing room they need and new seed to help fill in and thicken thin, damaged lawns.
Experts agree that aeration is an essential component of proper turf management and maintenance. Like getting a regular oil change for your car, Core Aeration & Seeding is a basic and vital step if you want to keep and enjoy a lush and healthy lawn.
Sutherland's Organic Solution will Core Aerate & Seed your lawn using a machine equipped with specially designed cylindrical spoons. Designed to penetrate and break up the soil, these spoons then pull up half-inch diameter plugs of thatch and soil from out of the ground. This process relieves soil compaction, and allows roots to expand and penetrate deeper for a healthier lawn. We only use the best Dwarf Type Tall Fescue Seed and Shade Seed equal to or better than popular, very expensive brands advertised online.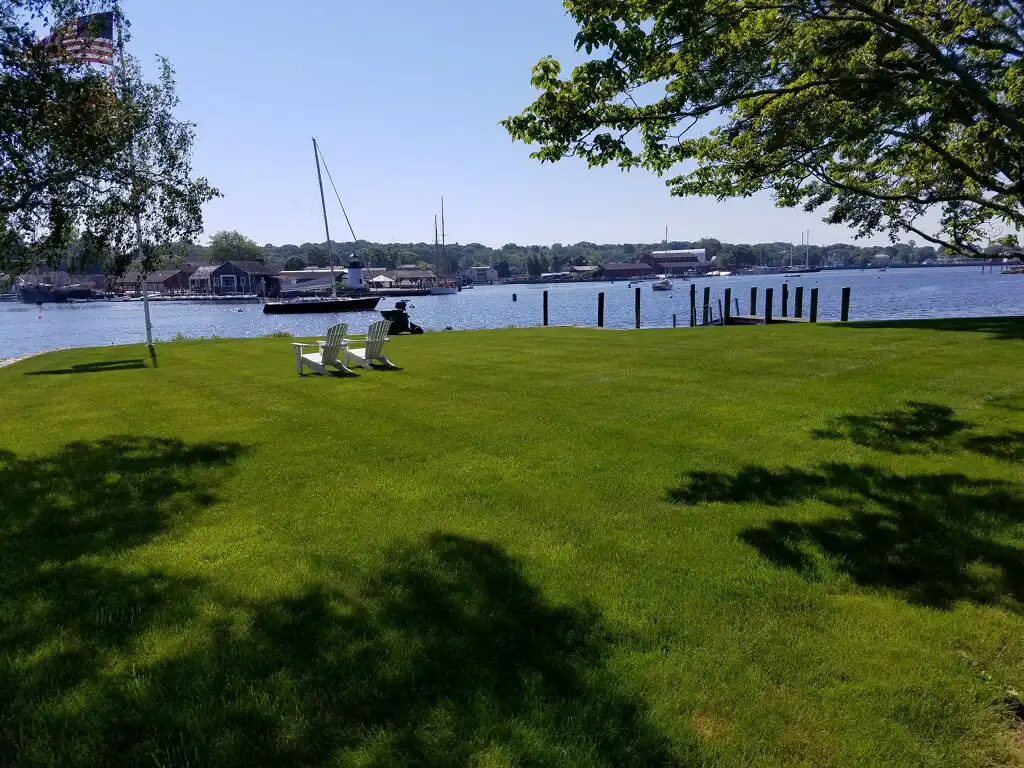 Major Benefits of Lawn Aeration in Rhode Island, Massachusetts and Connecticut:
Provides a better environment for over-seeding.
Increases air, water and nutrient movement to the root zone
Intensified decomposition of thatch
Helps relieve soil compaction
Stimulates new growth and older plants
Diminishes water runoff and puddling
Increases the effectiveness of applied fertilizers
Incorporates organic matter into the soil
Increases tolerance to heat and cold
Makes the soil more habitable for earthworms, and other natural "beneficials"
---
All this adds up to a healthier lawn and naturally controls weed and crabgrass problems. Let Sutherland's Organic Solutions Diagnose your lawn problems.